Enlarged prostate has always been problematic for men, with frequent urination during the night a major worry.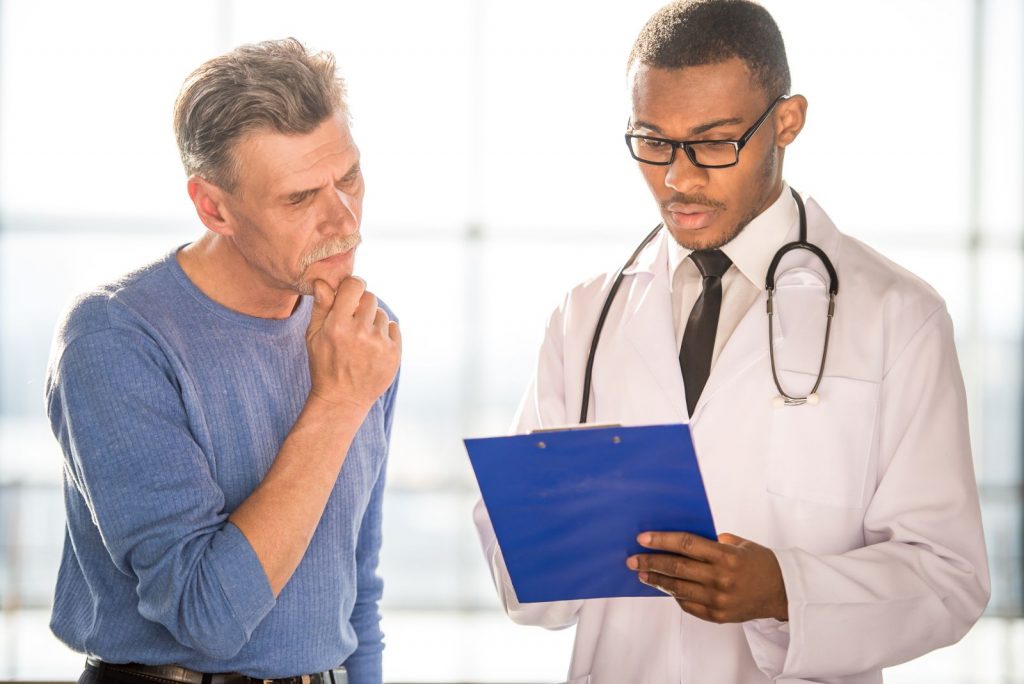 While frequent bathroom trips at night is indeed a sign of enlarged prostate, other symptoms can lead to it too – such as leaking urine, dribbling and more. Doctors over the years have considered age to be one of the main reasons for enlarged prostate.[1]
The problem arises when these night frequencies start showing up in the day too. Honestly, an enlarged prostate can increase the urgency to urinate, which is extremely annoying. An enlarged prostate is often referred to as benign prostate hyperplasia or BPH. Most people develop BPH by the age of 50 itself while it becomes more common for people of 60years and above.[2]
The Top Causes and Symptoms of an Enlarged Prostate
BPH is a non-cancerous condition that inhibits the movement of urine through the urethra. As a result, the prostate cells keep on growing by multiplication, thereby blocking the path and putting excessive pressure on the urethra, which is the main way for the exit of semen and urine.[3]
With a narrowing urethra, the bladder keeps contracting, and it becomes tough to urinate. The pressure developed by the bladder is aimed at pushing urine out of the body.
With time, the bladder muscles become thick, sensitive and strong. The capacity to hold urine becomes low and even when there's a little amount of urine, it will create an urgency in the body to urinate. Since the bladder cannot get past the narrow urethra, often, a small amount of urine stays back in the bladder. The small amount of urine that stays back further causes a lot of discomforts that needs to be addressed immediately.[4]
Although it does not pose any risk to your life, it can be uncomfortable. Despite being a non-cancerous condition, leaving this untreated can make way for prostate cancer.
Some of the common symptoms of an enlarged prostate include
Increase the urge to urinate
Not being able to urinate
Constant dribbling of urine
Frequent trips to the bathroom for urinating
Inability to hold back urination
As suggested earlier, urinary tract infection is common in men too. The inability to make the bladder empty leads to UTI in men. However, an enlarged prostate can also give way to different conditions such as bladder stones, bloody urine, acute urinary retention and more.
If you are completely unable to urinate, you need to see a doctor immediately. If left untreated, BPH may have severe impacts on the liver and kidney, thereby damaging them.[5]
Is it time to see a doctor?
Men often do not take enlarged prostate seriously, which is why they take years to reach out to a doctor. It is tough to detect any urinary problem in men, which is why they do not prefer visiting the doctor.
Many urologists make use of the BPH Impact Index to ensure that they can treat severe conditions easily. If your score is high, you may have severe symptoms that need to be addressed immediately.[6]
Enlarged prostate, however, may not be the same for everyone. Every individual can experience different types of pain and symptoms. While some may experience discomfort, some won't.
Treatment for enlarged prostate
There are several treatments for enlarged prostate from medicines to surgery and more. The kind of treatment you will be prescribed completely depends on the symptoms and gravity of your condition.[7]
The size of the prostate gland, and age will have an important role in determining enlarged prostate treatment. The older men may need a different treatment than the younger men.
As always suggested, before starting with any medicine, it is necessary to consult your healthcare provider.
Most people with an inability to urinate are recommended to undergo surgery. Well, the most beneficial part of this is that it offers a speedy recovery. Also, it won't have any side effects since it is completely safe.[8]
Medicines
FDA, over the years, has approved a number of medicines. Some of the most common ones include the following
Alpha-blockers
Alpha-blockers cannot directly cure BPH by reducing the size of your prostate, but it can be of help to relieve certain symptoms. These medicines relax the muscle around the prostate and ease the flow of urine. Alpha-blockers, however, can treat the condition only for those who don't have a severely enlarged prostate.
5-alpha reductase inhibitors
These drugs are aimed at reducing the size of the prostate by inhibiting the production of dihydrotestosterone. 5-alpha reductase inhibitors may not be as effective as alpha-blockers, because the former has a recovery period of 2-3 months, while the latter has a recovery period of 2-3 days.[9]
Herbal Therapies
Several herbs have been approved by the FDA for treating an enlarged prostate.
Saw palmetto and beta-sitosterol is extensively used in the market. These medicines can be easily bought from a medicine shop without any prescription across the US.
Although these herbs are deemed to be healthy, more research needs to be conducted to determine the effectiveness of these. The herbs are FDA approved and not the products, which is why it is necessary to check before buying.
Surgery is also one of the most potent treatments for reducing the size of the enlarged prostate. But, it has a long recovery period and should be considered only if the condition is severe.[10]
Before trying out any alternative treatment for enlarged prostate, a lot of things should be taken into consideration. Your healthcare provider can indeed find the most feasible solution for treating the problem.[11]
---
[1] https://www.ncbi.nlm.nih.gov/books/NBK279204/
[2] Wilt TJ, N'Dow J. Benign prostatic hyperplasia. Part 2: Management. BMJ 2008; 336(7637): 206-210. [PMC free article] [PubMed]
[3] https://www.ncbi.nlm.nih.gov/pmc/articles/PMC5509197/
[4] Warren K, Burden H, Abrams P. Lower urinary tract symptom: Still too much focus on the prostate? Curr Opin Urol. 2014;24:3–9. [PubMed] [Google Scholar]
[5] Fitzpatrick JM. The natural history of benign prostatic hyperplasia. BJU Int. 2006;97(Suppl 2):3S–6S. [PubMed] [Google Scholar]
[6] Chughtai B, Lee R, Te A, Kaplan S. Role of inflammation in benign prostatic hyperplasia. Rev Urol. 2011;13:147–50. [PMC free article] [PubMed] [Google Scholar]
[7] https://www.ncbi.nlm.nih.gov/books/NBK481489/
[8] https://www.ncbi.nlm.nih.gov/pmc/articles/PMC1502356/
[9] Roehrborn CG. Pathology of benign prostatic hyperplasia. Int J Impot Res. 2008;20(Suppl 3):11S–8S. [PubMed] [Google Scholar]
[10] Cannon GW, Getzenberg RH. Biomarkers for benign prostatic hyperplasia progression. Curr Urol Rep. 2008;9:279–83. [PMC free article] [PubMed] [Google Scholar]